Reviewing the Payment Rules area with our example as a template.
You can access the Payment Rules by clicking on Recurring Payment in the left hand menu, and clicking the Setup link.
Payment Rules are set under the Payment Setup heading.

The tooltip to click on will be green, as there is an example rule already set up for you. Click on the tooltip to enter this area.
Payment rules are the set of rules by which a customer's nominated credit card can be billed automatically and the process to handle successful charges and unsuccessful charges. Please note customer credit cards will only be billed if the Auto Pay checkbox is selected in the customer's account.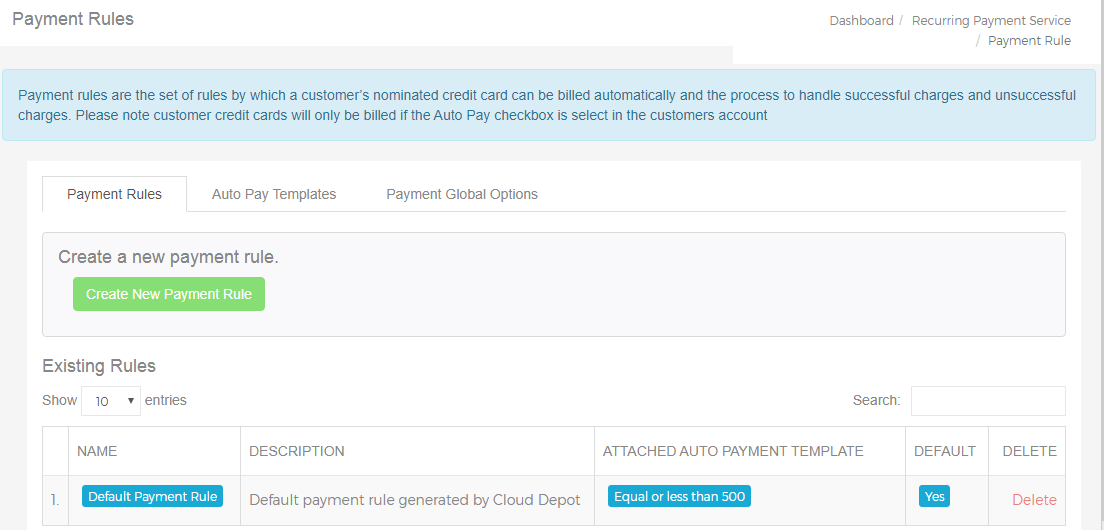 The Payment Rules dashboard shows all of the payment rules that are listed for your account. By default Cloud Depot has added a payment rule to show how it works so that you can become more comfortable with the process before you add your own (or edit ours to suit).
The three headings at the top are:
Payment Rules (a list of all your payment rules)
Auto Pay Templates (a list of template auto pay rules which can be attached to payment rules)
Payment Global Options (options pertaining to your customers which can be set or unset on a global basis)
You can click on the blue Default Payment Rule heading in the grid to view that rule.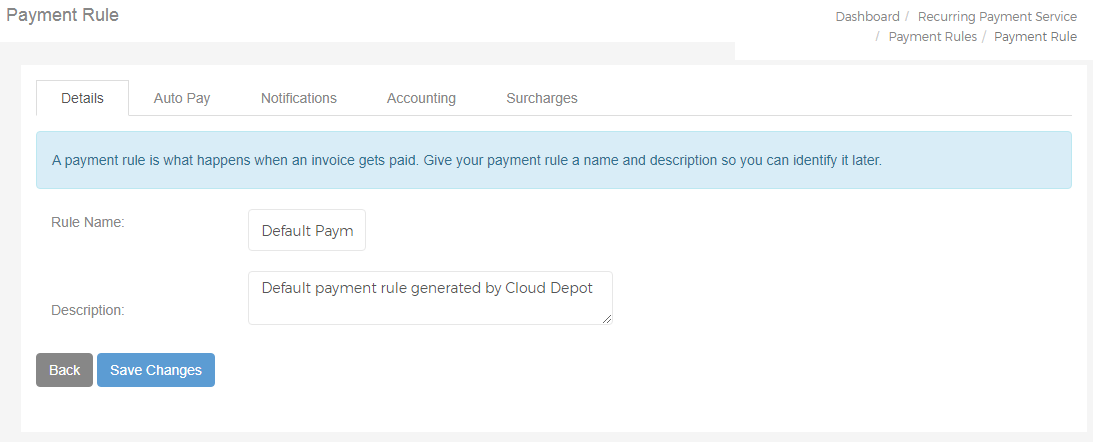 You will see the rule has a name and a description, and several more tabs which allow you to fully define the rule.
Auto Pay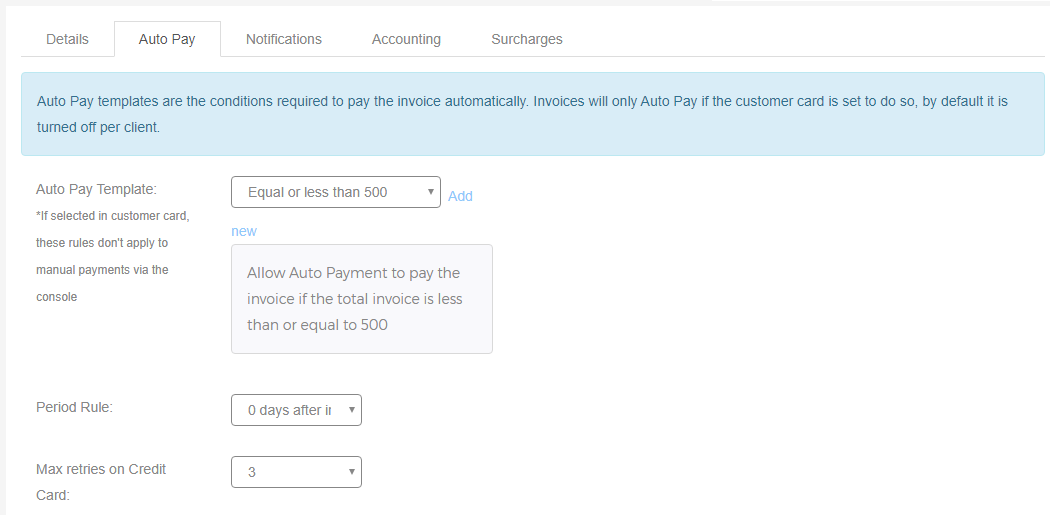 Auto Pay templates are the conditions required to pay the invoice automatically. Invoices will only Auto Pay if the customer card is set to do so. By default it is turned off per customer. Our sample rule is set up to allow Auto Pay to pay the invoice if the invoice is equal to or lower than $500.
You can choose another template here, or add a new one.
You will see the Period Rule is set to 0, and the Max Retries is set to 3.
Period Rule = 0 (This means it will charge the card on the same day it is due)
Max retries = 3 (This means it will try up to 3 times to bill the customers card)
Notifications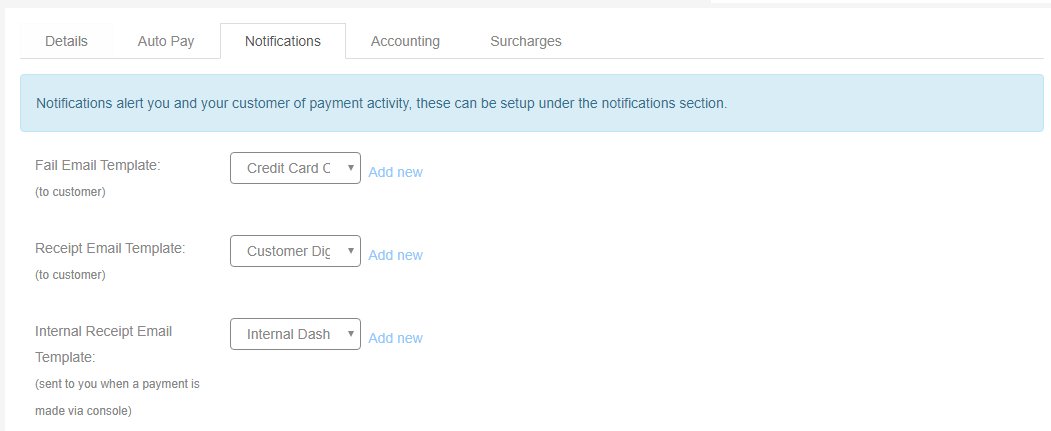 Notifications alert you and your customer of payment activity. These can be setup under the notifications section. By default, these are set to:
Fail Email Template: Credit Card Charge Failed
Receipt Email Template: Customer Digital Receipt
Internal Receipt Email Template: Internal Dashboard Payment Notification
You can also set the Internal Receipt Email Address away from the default if you wish the notification to go to a different email (for example, accounts@).
Accounting

Here you can set the automated payments to be switched to apply the payment to your accounting provider, for example Xero. This is a check box that can be switched on or off. By default it is off.
Surcharges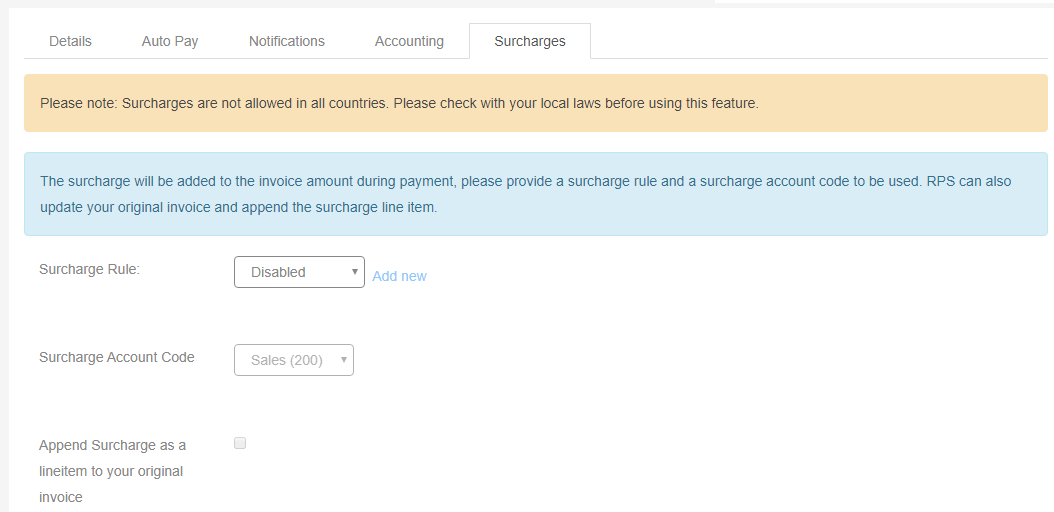 Here is where you can define the surcharge that is added to the invoice during payment, if this applies to you. For more on Surcharges, click here.
You can apply a Surcharge Rule and Surcharge Account Code, and switch on or off the ability to append the surcharge as a line item to the original invoice.
Surcharge Account Code
This is the account code that the surcharge line item will use, please note the tax code used will be the same as the account code, so its recommend you create a new account code for surcharges.
In the main area, you can create your own Payment Rule, Delete our example, or edit the example with your own details.
If you are struggling with setting up this area, or editing it, please contact our Support team and we would be happy to help you walk through it to best suit your business needs.