Mapping Autotask account codes to Xero GL codes
My Accounting Toolbox- > Configuration -> Link Account Codes
Please note our data is cached using a cache server, if you have made changes to your account codes in Xero or Autotask and they are not showing in Cloud Depot. Logout, using the logout link under your name in the top right hand corner then log back in.
Step 1. Setup your default Account mappings
Default account mappings will be used when no account mapping is found under the linked accounts.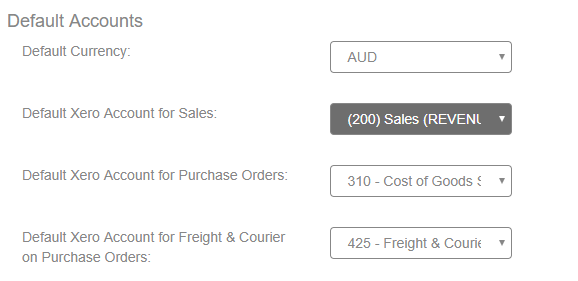 Note: Even if you don't use our Purchase Order module you still need to enter a Default Freight and Courier account.
Linking the allocation codes to Xero GL codes
On the left hand drop-down we display a list of Autotask allocation codes and using the link button you can map those to Xero GL codes.
Invoices


Purchase Orders

Audit tool
This tool allows you to enter a Autotask invoice id number (found in your Autotask app) and review the mappings for each line item in that invoice. This is useful when you have missing mappings or incorrect mappings setup.

Troubleshooting
If you are having issues with Xero invoices not having the correct account codes mapped or are mapping to the wrong account codes:
1. Use the Audit tool (above) to assist you in finding what is or isn't mapped in real-time.
2. Check the sync logs for a invoice that isn't mapping correctly, you might see the following example lines below:
Click here to read about reviewing sync logs
Xero warning: Account code 'xxx' has been removed as it does not match an active account.
This means that the mapping you have in Cloud Depot is mapped to a deleted account code in Xero. To fix this, locate the mapping in our matching table, delete the mapping and remap to the correct account code.
No matching Account Code for AT allocation Code Id: xxxxxxx using default xero code xxx
This means that the mapping isn't linked and our sync tool is using the default mapping you have specified.