This article is for customers who want to bulk reconcile payments from IntegraPay using Clearing accounts.
WARNING:
Please check with your accountant before setting this up, the article below is just one example of how to process bulk payments.
Please note any tax configurations in this example might not be applicable to your tax region.
Setup Xero and Cloud Depot to receive bulk payments
Step 1: Create a Bulk Payments account in Xero (if you haven't already got one)
Log into Xero and navigate to Accounting -> Chart of Accounts
Account Type = Current Asset
Enable Payments to this account = ticked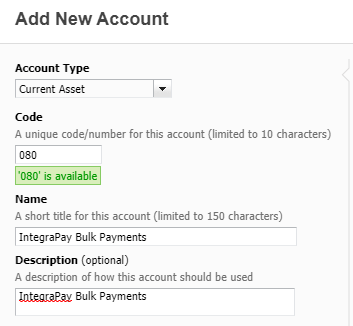 Step 2: Create a Fees account for the Payrix (IntegraPay) Fees in Xero (if you haven't already got one)
*Please check with your accountant what Account Type is best for your business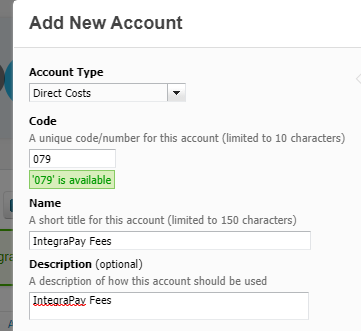 Step 3: Sync the new account codes in Cloud Depot
Log into Cloud Depot and navigate to
Setup -> Accounting Sync
Click the Re-sync Accounting Info

Step 4: Link your clearing account to your gateway
Navigate to
Setup - > Link Bank Accounts
If your gateway is already settling to a bank account delete that link first.
Select your Gateway then find the settlement account that you want the bulk payments to settle to. Make sure the Settlement Currency matches the correct currency that funds get settled in.


Make sure you click the link button to add the link to your list

Done! Please read the guide below on how to reconcile with Xero.
Warning: Please check with your accountant that the method below is right for your company.
Reconcile Bulk Payment in Xero
Make sure you use the Cloud Depot Settlement Report to assist you with your reconcile. Located under Recurring Payments -> Reports & Logs -> Settlement Report
Payrix (IntegraPay) will deposit payments into your bank account a few days after the transaction has occurred. These payments will be will net less fees.
For this example, we have received two credit card payments from Payrix (IntegraPay) that will be settled into our bank account.
(Screenshot from Xero chart of accounts)

The total amount of the payments is 149.49. However after fees of 6.49 the settlement is 140.00
Step 1: Locate the IntegraPay Payment in your Xero reconcile dashboard

Match the account code to your bulk payments account code created earlier, then click Add Details

As the Payrix (IntegraPay) Bulk Payments account in Xero will be 149.49 we need to account for the missing fees by crediting 6.49, we then need to account for the 6.49 in fees to our fees account, in this example it is shown as a negative amount. The subtotal should now match $140 and you can save transaction and reconcile in Xero.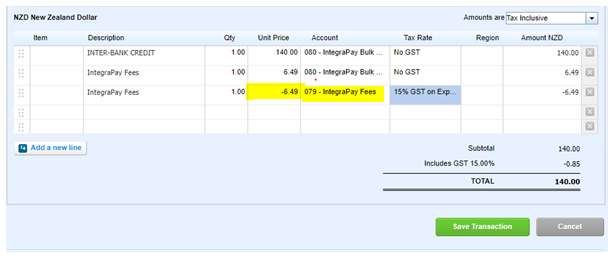 Your settlement account will now look similar to the screenshot below. It should balance Zero after the payments applied.

Your Fees account should now show the debit of fees (less tax) from Payrix (IntegraPay)