The article below is a walk through Scenario for setting up a new Payment Rule.
Scenario:
Customer has given you permission to bill your monthly services to her credit card but she said that any other invoices she wants to pay manually.
1. Create an account code.
In your accounting package create an account type for your monthly service that you will apply to your monthly invoices. In this example we have created account code 203 and called in Managed Services.
You might already have this setup but for the purpose of this example we will setup a new one.
(Example below is from Xero.)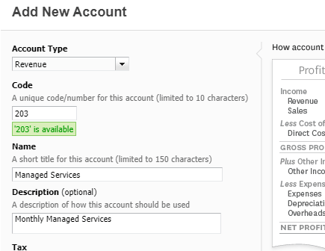 We have created a invoice with two managed services that we will bill to the customers.

2. Re-sync Cloud Depot RPS with your Accounting Package
Recurring Payment - > Setup -> Accounting & Sync
Please see this article for further information on how to resync your account codes
3. Setup Auto Payment Template Rules
Recurring Payment - > Setup -> Payment Rules
Under the left hand Recurring Payment menu, choose Setup and then navigate down to Payment Rules, which are under the Payment Setup heading. Click on the green tool-tip to enter this area.
a) Go to the Auto Pay Template tab and click on the green Create new Auto Pay Template button




b) Give your template a name and a description then click Save Changes



c) Create a new rule for your Template using the following parameters

Action = Allow
Attribute = Account Code
Expression = In any lineitem contains
Condition = Managed Services (203)
Note: "In Any lineitem contains" clause means that if any line-item in the invoice contains the matching account-code, it will pass the condition. If it fails the condition the invoice will not Auto Pay, but can still be paid manually in the client's payment page.
d) Click
Add
to add the rule and add it to the Rule List below

4. Create New Payment Rule
Click on the Payment Rules tab in the same area.
Payment Rules are a collection of rules and triggers that support payments for customers. An Auto Pay template is attached to a Payment Rule.
In the example below we will create a new Payment Rule called "Managed Services" and attach to that rule the Managed Services Auto Pay template which dictates under what conditions that payment automatically gets made.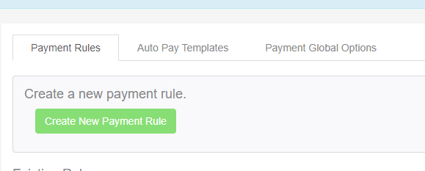 Click Create New Payment Rule, give your rule a name and description in the details tab.

Select the Auto Pay tab, and select the Auto Pay template that we created previously.
Period Rule = 0 (This means it will charge the card on the same day it is due)
Max retries = 3 (This means it will try up to 3 times to bill the customers card)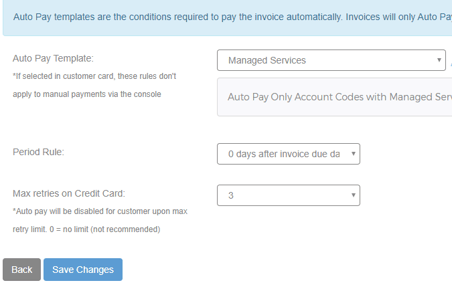 Select the Notifications Tab and confirm your email templates by selecting and clicking the blue Save Changes button.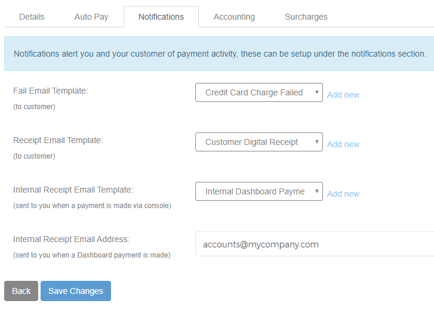 Select the Accounting Tab and make sure the Apply Payment to Invoice check box is ticked. Click the blue Save Changes button when finished.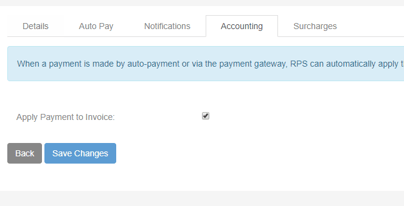 Optionally, you can select the Surcharges Tab to apply surcharges to your automatic payment rule.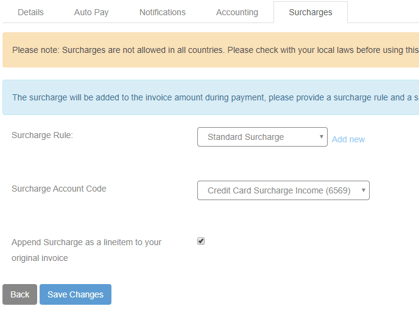 5. Update the Customers Payment Rule
Finally, using the left hand menu, click on Customers under the Recurring Payment item. Select the customer you wish to apply this rule to by clicking on their name.
In the Customer's details, click on Billing and Portal, and apply the payment rule to the customer.
Make sure Enable Auto Payment is ticked
Choose the Payment Rule: Managed Services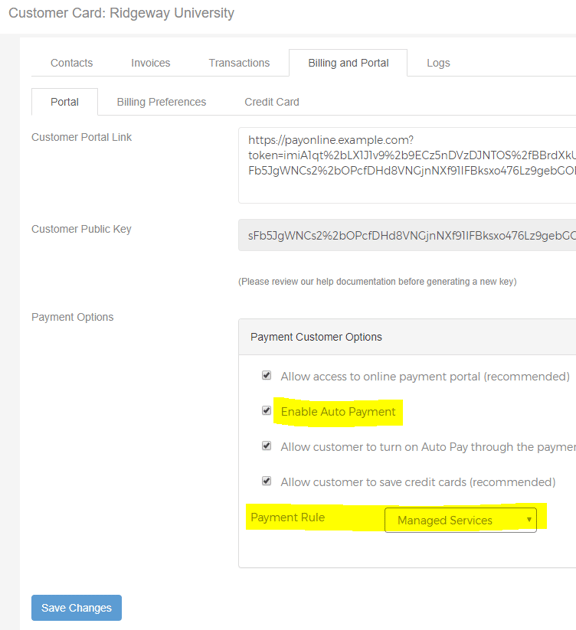 Make sure you click the blue Save Changes button when you're finished.
If you have any other special situations that you may need help with in setting up payment rules, please don't hesitate to send us a support request in the left hand menu under Support Options.