If you need to set up or configure a surcharge for a credit card use, you can do this in the setup menu.
You can access the Card Surcharge settings by clicking on Recurring Payment in the left hand menu, and clicking the Setup link.
Card Surcharge is under the Credit Cards heading.

If you wish to edit or change this area, the tooltip to click on will be green. Click on the tooltip to access this area.
Warning: In some countries credit card surcharges are illegal or are regulated, please check the legal status of credit card surcharges before setting this up.
You may wish to set up a credit card surcharge to cover your credit card fees or your online payment gateway fees. You will notice that Cloud Depot has created a standard credit card surcharge rule by default when you access this area.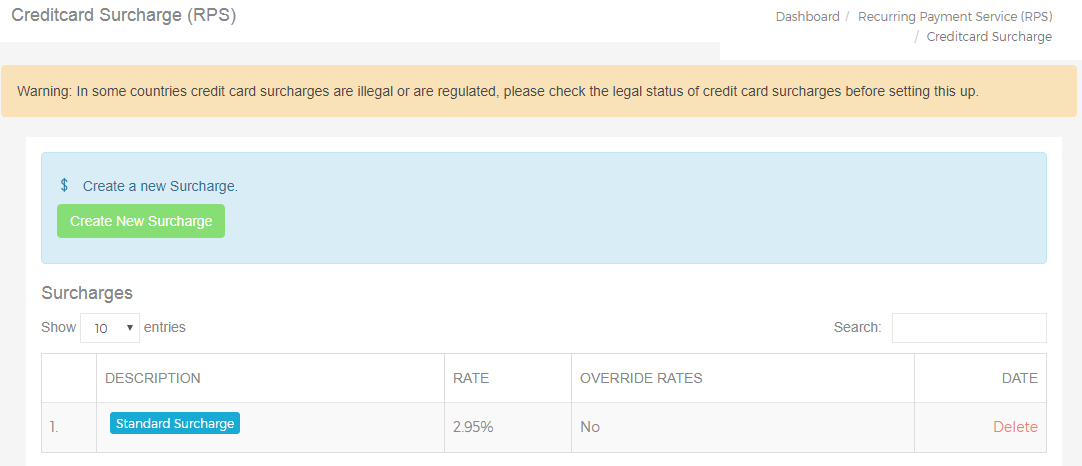 To review or edit the standard surcharge rule, click on the blue Standard Surcharge link under the description. You will then be able to change the name of the rule, the rate, and then also if that rule applies to overriding all credit cards or not.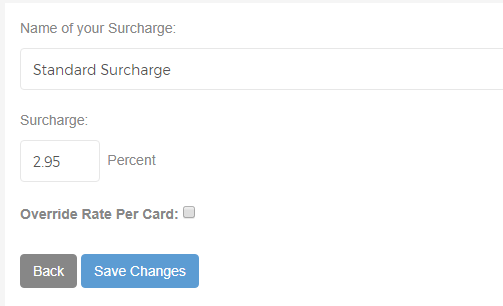 If you choose Override Rate Per Card, a new area will appear as a dropdown, so that you may choose a particular card (or all of them) to have separate rates for. For example, if you wish to have a different rate for American Express.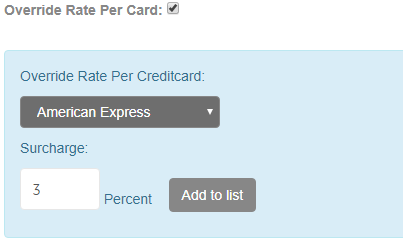 When you have entered the surcharge rate, click the grey Add to list button.

When you have finished configuring this rule, click the blue Save Changes button to save. Click the grey Back button to return to the main Surcharge area.
If you have changed or added override to the Standard Surcharge, you will notice that the Override Rates have changed from No to Yes.
You can also add new surcharge rules by clicking on the green Create New Surcharge button at the top of the page, and following the steps.
If you do not wish to have surcharges, you can click on the red Delete link to the right of the surcharge rule to remove it from your system.