RPS can white-label your emails so that you can send invoices and reminders to your clients with your own branding.
You can access the Outbound Email Settings by clicking on Recurring Payment in the left hand menu, and clicking the Setup link.
Outbound Email Settings are set under the Email heading.

If you have not set up your email settings, the tooltip below this area will be red. If you have set them up, and want to edit or change them, the tooltip to click on will be green.
There are two settings: Global Notifications and White Label SMTP Gateway.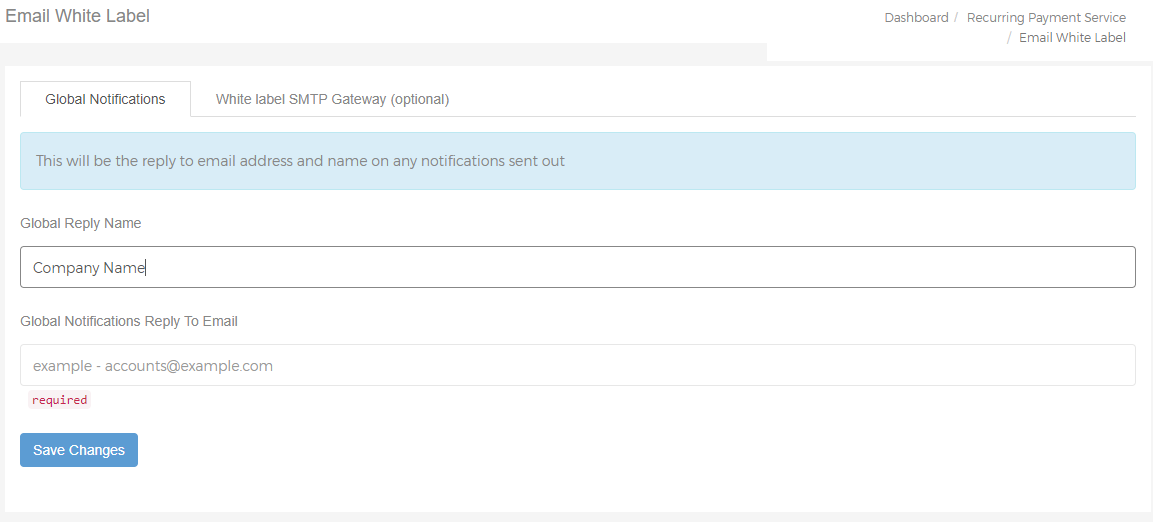 Global Notifications
Here is where you set the reply-to email address and name on any notifications you send out. In the Global Reply Name field, enter the company name you want to show.
In the Global Notifications Reply To Email, enter the email address you wish emails to go to, when your clients click REPLY on any email you send through the RPS platform.
Remember to click the blue Save Changes button.
White Label STMP Gateway
This is an optional area. However, it may be something you are very keen to set up.
When sending your invoices, Cloud Depot will send them with your logo, and will by default send them from notifications@clouddepot.com (as we are unable to send on behalf of your domain unless you use the SMTP gateway option.)
Note: If the customer by chance replies to notifications@clouddepot.com, the email will not be forwarded onto you but will be replied to the customer with the below message:
Hello,
It looks like you have replied to an email that isn't monitored. Can you please review the original email from field as it will contain instructions and links for you to follow.
Regards
Cloud Depot Team
If you have set up the Reply-To address, however, the chances of this happening will be minimal.
Setting up White Labeling:
If you would like to send your invoices from your personal email address, eg from accounts@company.com, then you can do so here.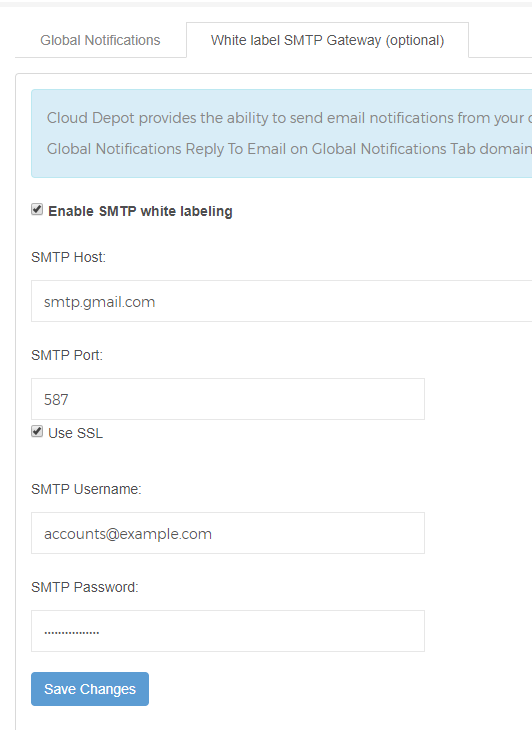 White label SMTP Gateway will use your own SMTP gateway to send emails. You must first authenticate with your gateway by entering your settings.
Tick the Enable SMTP white labeling checkbox under these settings. Enter in your Host URL, port, username and password. If you have an SSL on your domain, we recommend you tick this checkbox too.
Click Save Changes when you are ready.
The system will need to be verified to make sure the STMP settings are working. Enter your email into the area required, and we will send you a verification email.

We will send an email with a PIN code. Please enter that PIN code into the verification area in the page.
Once this has been configured, you're done!
Please note the following:
If you require a IP whitelist we can supply you with a copy of our mail server IP addresses. Please contact support for this information.
If your SMTP gateway fails for any reason when we try to send email notifications through, we will fall back to use our own email gateway.
It is recommended that your email is always sent over TLS/SSL