How to setup Stripe with Cloud Depot
You can access the Credit Card Gateway by clicking on Recurring Payment in the left hand menu, and clicking the Setup link.
Credit Card Gateways are set under the Gateways heading.

If you have not set up your gateway, the tooltip below this area will be red. If you have set them up, and want to edit or change them, the tooltip to click on will be green.
To add Stripe, choose Stripe from the dropdown and click on the blue Add Gateway button. The Stripe details area will appear. Give your Gateway a description, for example "Stripe Payment Services" and click on the blue Connect to Your Stripe Account button.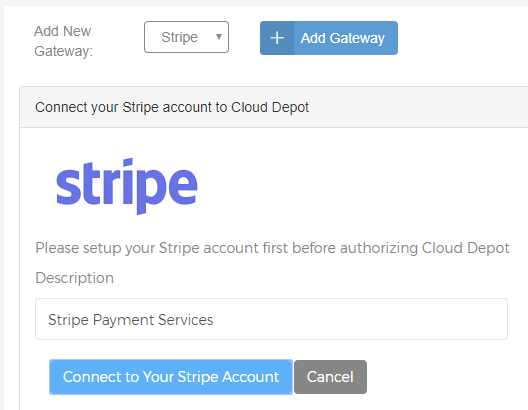 You will be taken to a connection authentication page: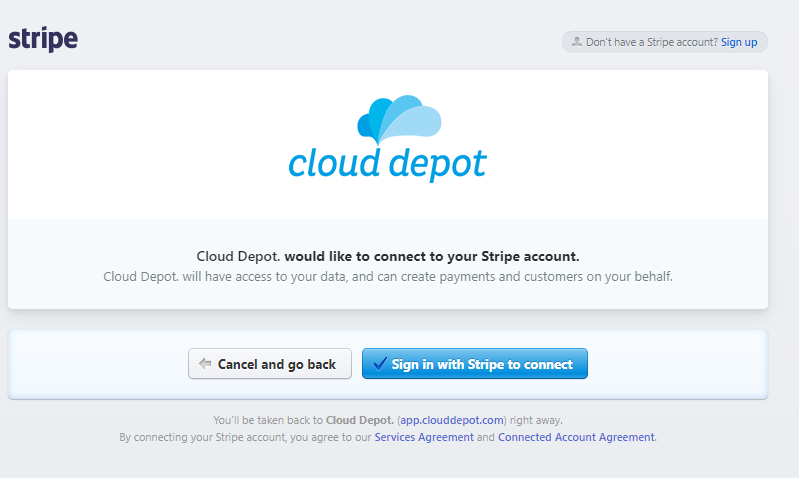 Sign into your Stripe account. A confirmation will appear. Click on the blue Connect button to connect Stripe to Cloud Depot.
You're done! It's now connected.
Tip: You may enable Test gateways on both Stripe and eWay if you wish to run any tests before going live with RPS services.