How to White Label your customer portal to show your company logo and domain
How to find the Customer Portal
| | |
| --- | --- |
| | Recurring Payment > Setup > Customer Portal |
Need to setup Autotask Pay online button? See the article below
The Customer Portal is the public access area that your customers will see when they come to pay your invoices through RPS. Through this, they will be able to see their invoices that are due, pay online by credit card, save their credit card details, download their invoice, and review any paid invoices if they wish.
They can also choose to save their credit card details, or opt to enter them in each time. They can also set their credit card to automatically be charged for outstanding invoices.
Your customer portal can be white-labelled to show your domain and your company logo.
You can access the Customer Portal settings by clicking on Recurring Payment in the left hand menu, and clicking the Setup link.
Customer Portal is under the Payment Setup heading. Click on the green tooltip to access this area.
Click on the White Label Domain check box to open the white labelling area.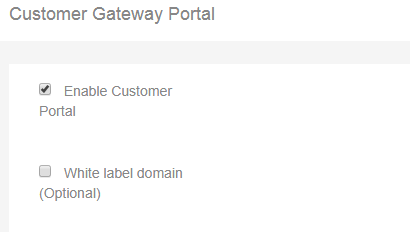 White labelling will require a subdomain of your web URL, for example if your URL is www.company.com, you can set up a subdomain that is securepayment.company.com.
NOTE: Cloud Depot will set up white labelling for you. However, there are a few steps that you will need to do to help configure this.
First, set up your subdomain, and enter it into the Customer Portal settings:

Leave other fields blank at this stage. Click the blue Save Changes button at the bottom of the page.
Then, create a support ticket to Cloud Depot, and let them know that this subdomain has been saved on your account.
Tip: You can create a support ticket by clicking on Support on the left hand menu, and choosing the Contact our Support Team option.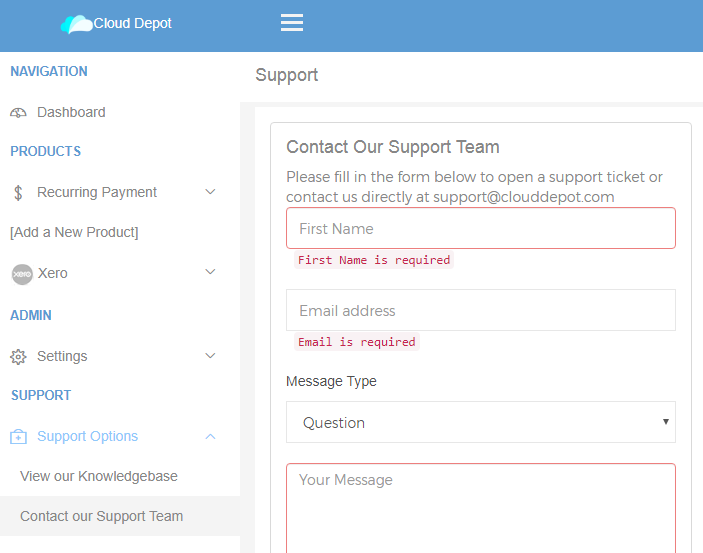 Cloud Depot will create a secure certificate for your subdomain, and issue you with two CName records for your white label settings. It may take up to 24 hours to issue these records.
Once the records have been issued, you will be notified by email. You can then populate the CName records into your website DNS settings. Cloud Depot will check to make sure they have been configured, and notify you by email when successful.
Cloud Depot will fill out the values in your account under your White Labelling settings for you.
CAUTION: The DNS settings must stay in your system for the life of the certificate. If you revoke the DNS settings, the certificate will also be revoked.
Your configuration of White Labelling is complete and your Customer Portal will have your logo and your subdomain URL displaying to your customers.