This articles goes through the initial setup page of RPS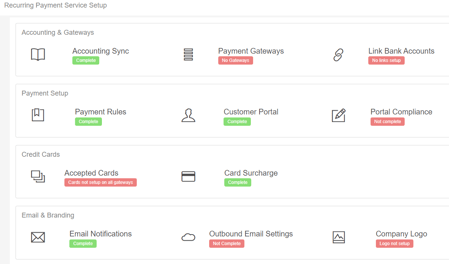 It is recommend that you setup each item for RPS in the following order, some items have been prepopulated with default options, feel free to make any changes you wish to these prepopulated items.
Preliminary Setup Tasks
We recommend gathering the following information before setup to help speed up the setup process:
Settlement bank account (not required, but recommended)
Setup a new bank account within Xero that you will reconcile all your payments to. This will make bulk reconciliation of payments much quicker. If you are using Stripe, please see this other guide as well.
Choose a subdomain, ie. https://pay.<your domain name>.com
Our RPS platform allows you to setup your customer payment portal under a URL of your choosing. The most popular options are pay, payonline, secure or invoices. Once you have this chosen, there's a few steps to verify ownership, which support can walk you through.
Direct debit/ACH company details (not required for credit card payments)
As part of the Integrapay compliance, you will need the following:


Your registered company name
Your company number - ABN, NZBN or other number
Terms of use URL (we recommend a link to a private page on your website)
Privacy policy URL
Payment refund policy URL
Support email address and contact phone number

From email
Choose an email address that all your RPS emails will be from, that are sent to your customers. Most common is accounts@<your domain name>.
Outbound SMTP email settings
The RPS platform is able to send emails through your email provider (Office365/Gmail) - this requires it's own email account, with server details (address and port) and username/password
Your company logo
Required to be 120x120 pixels, and an image.

Recommended Setup Order
Items listed as required below have will require you to configure them before you start using RPS, some items are prepopulated with default settings that can be configured after setup.
Walkthroughs
Setting up Credit Card Surcharges - a step by step guide.
A customer scenario for billing monthly services using payment rules to determine what is allowed to be billed.